Streaming virtual reality content to the world
Playing VR games is always a very exciting experience for the person who wears the headset. But sharing this experience with friends and family around is very limited so far. They can only look at the computer's monitor and the player making ninja-like moves cutting blocks in Beat Saber.
In the first days of virtual reality gaming, this was also true about streamers whose viewers could watch only a shaky POV angle. First, it's quite unpleasant to watch and can easily cause some dizziness. But second and most importantly, people watching the livestream couldn't see the player moving.
VR games like Beat Saber, SUPERHOT VR, and Gorn became extremely popular. The first title has almost 500,000 followers and millions of viewers on Twitch. This called for a solution to the VR streaming problem, and LIV created just that. LIV allows VR content creators to put themselves into a VR experience and broadcast it to the world. Over 15,000 streamers use LIV every month and some of their biggest creators include PewDiePie, Shroud and LinusTechTips. LIV currently supports well over 150 apps and games, but the list keeps growing. Developers can use LIV's SDK to make their apps and games compatible.
Streamers using LIV can put themselves into the game either by using a green screen or other solution to remove the background. If they don't have a camera or the right setup, they can use a 3D avatar. Now, you probably know where this is going.
Create your personal avatar for LIV with Ready Player Me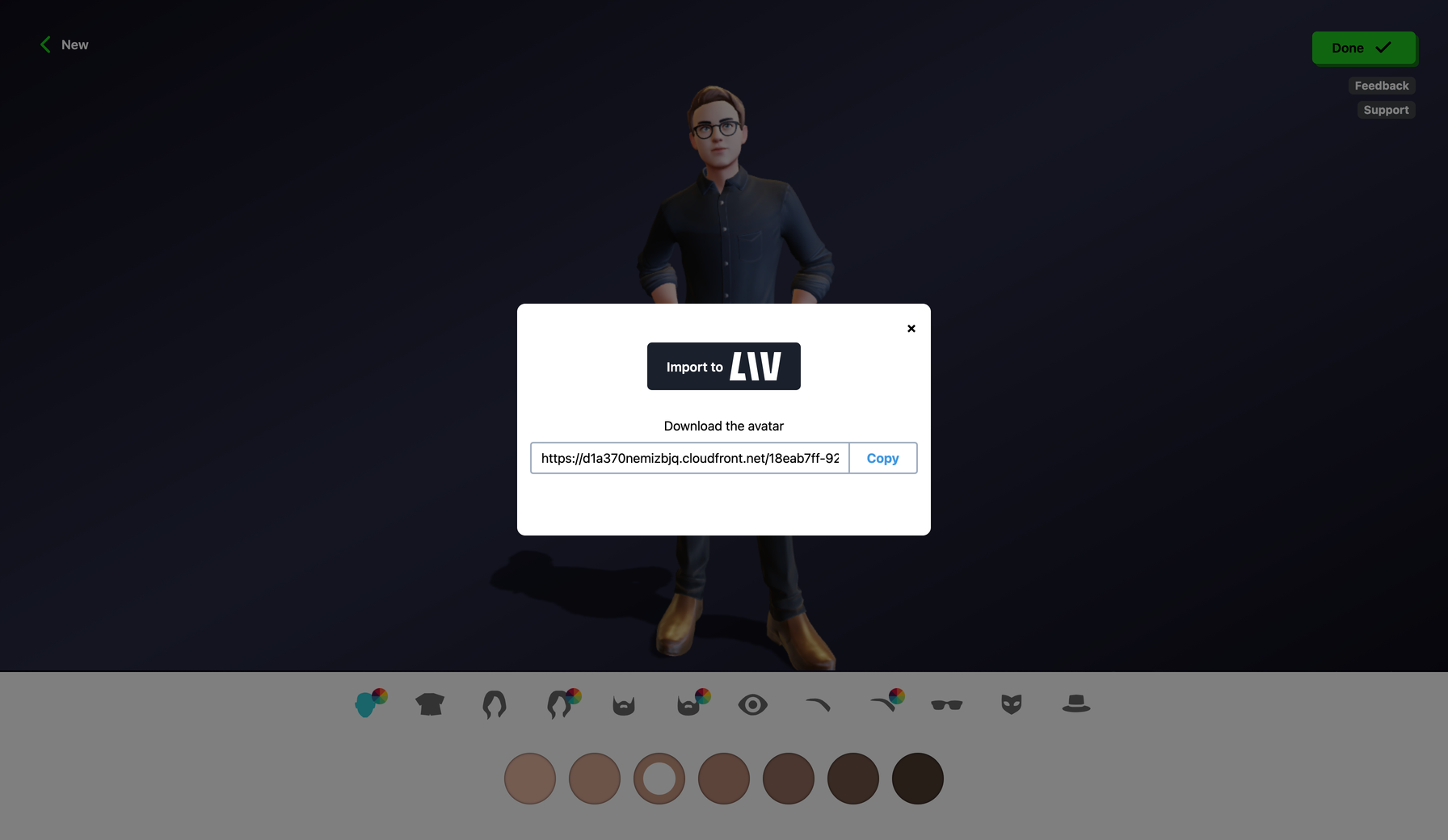 One of the most common requests from LIV's users were personalized avatars. Starting today, LIV creators can create Ready Player Me avatars with a single photo and use them on their livestreams. Streamers will be able to use their stylized avatars in all apps and games supported by LIV.
Creating your own Ready Player Me avatar for LIV is very simple:
Go to liv.tv/create-avatar on your streaming computer.
Take or upload a selfie. It's best if you take off glasses and look straight into the camera. The photo needs to be well-lit for the best results.
Customize your avatar's hair, eyes, tattoos, clothes, and more. It can look just like you but feel free to let your creativity do its thing. When you're happy with the result, just click "Next" and then "Import to LIV."
Hop into VR and select your character in LIV's avatar menu. You can find more details here.
Atom Bomb Body also made a video where she explains how to create a Ready Player Me avatar and add it to LIV:
Selected creators from LIV's community already had a chance to test out the integration. We can't wait to see our avatars in more VR livestreams – be sure to share yours on Twitter with #readyplayerme.
Are you a developer?
Do you want to join us in the mission of building the metaverse? Become a Ready Player Me partner to integrate our avatars with your app or game.