In today's physically distanced reality, rugby fans can now engage with the British & Irish Lions brand and other fans virtually on The Lions app by Vodafone.
The Lions app is a tool for rugby fans to immerse themselves in the 2021 Tour providing the latest news, ticket offers, information, and entertainment.The Digital Lions feature, developed by the leading avatar technology company Wolf3D and Happy Finish, lets anyone virtually become one of the Lions. All they need to do is to take a selfie or upload an image, and they'll get a personal 3D avatar – a Digital Lion – wearing the Lions team uniform.
Read Vodafone UK's press release.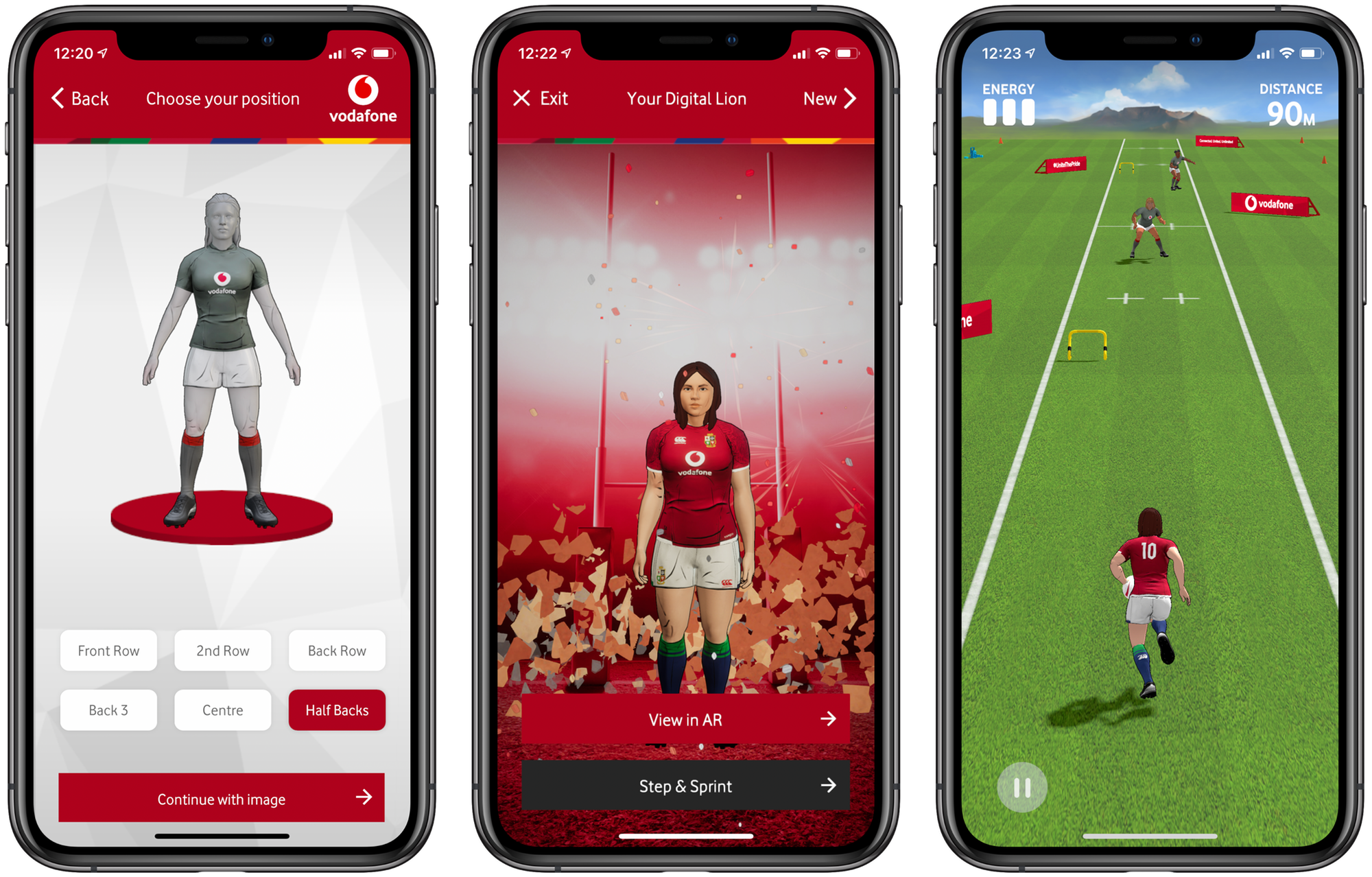 Pose With Lions in Augmented Reality
Once the virtual self has been generated and customized according to individual likings, the fan can use it to pose with legendary ex-Lions players in augmented reality (AR), play in-app games using the avatar, and take photos and videos of their animated Digital Lion striking rugby pose to share with their friends on social media.Fans can use the same personal avatar throughout the Lions app experience, switching between AR and games.
Being able to continuously use one avatar that directly reflects your identity is the key to making a virtual experience truly immersive. The more embodied you feel, the more engaging and real the experience is.
~ Kaspar Tiri, Co-Founder of Wolf3D.
The body shapes of the Digital Lion avatars are designed based on the actual looks of the British & Irish Lions players, so the avatar created will have the built of a rugby player but will still resemble the fan's personal characteristics, giving the fans a unique opportunity to see how they'd look as a Lions player.
New Ways of Engaging Rugby Fans
Engaging fans in new ways, getting them excited, and making them feel united and connected during current times is a big challenge for most brands. Approaching it with a creative and innovative mindset, Wolf3D has enabled Vodafone to bring technology successfully used in other industries, namely in gaming, VR, and fashion, to sports.As the world has become digital-first, personal avatars make their way to virtual concerts, fashion shows, and daily communication. Letting people create and use their very own avatar is not only entertaining, but it also creates a truly immersive and personal virtual experience.
Become a Ready Player Me Partner
Do you want to join us in the mission of building the metaverse? Become a Ready Player Me partner to integrate our avatars with your app or game.