Best VR Meeting and Productivity Software for Remote Companies and Enterprise
The pandemic changed how we communicate and collaborate at work. Video call apps like Zoom and Google Meet became even more popular as in-person meetings were no longer an option. Many companies, including Salesforce, Microsoft, and Facebook, went as far as introducing permanent work-from-home policies.
Video conferencing works just fine. But with technology advancing and new, affordable devices like Oculus Quest 2 being released, we have an opportunity to use more immersive and engaging tools for work. There are hundreds of virtual reality work applications available. Some are more specialized, like The Wild for architects and Medical Realities for doctors. But there are more and more applications that bring meetings, meetups, and even large-scale conferences into VR.
This article highlights virtual reality productivity applications that support Ready Player Me avatars and our SDK.
MeetinVR – business meetings and collaboration in VR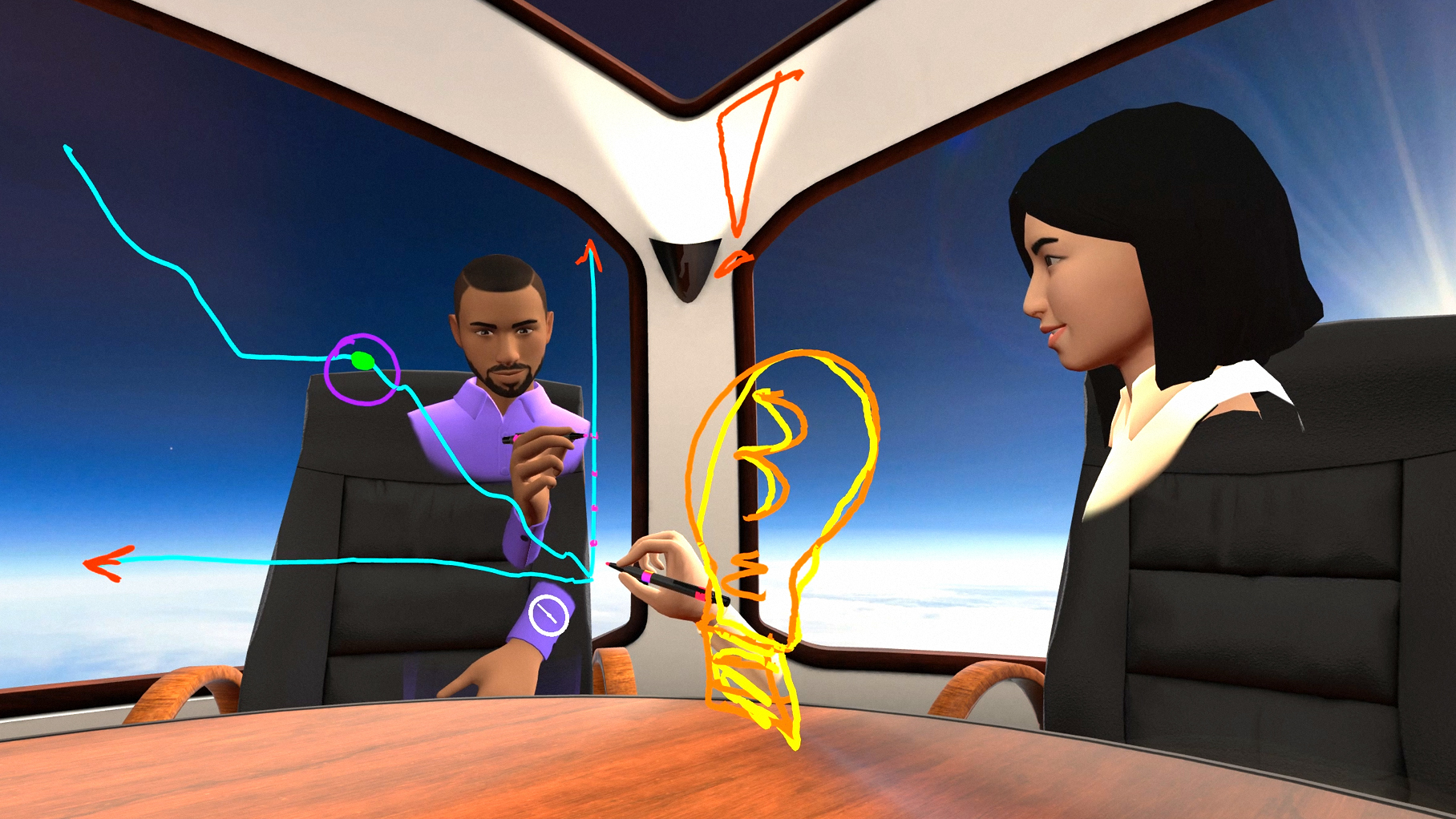 MeetinVR is all about having productive meetings in virtual reality. The app allows you to host meetings, share slides, brainstorm on whiteboards with pens and Post-Its. When you have a meeting in MeetinVR, you can access your files, notes, and reactions from a floating tablet. There is even a camera so you can take a selfie from your virtual reality meeting.
MeetinVR works on VR headsets, including Oculus Quest. The company also offers desktop clients for macOS and Windows.
Mozilla Hubs – private social VR in a web browser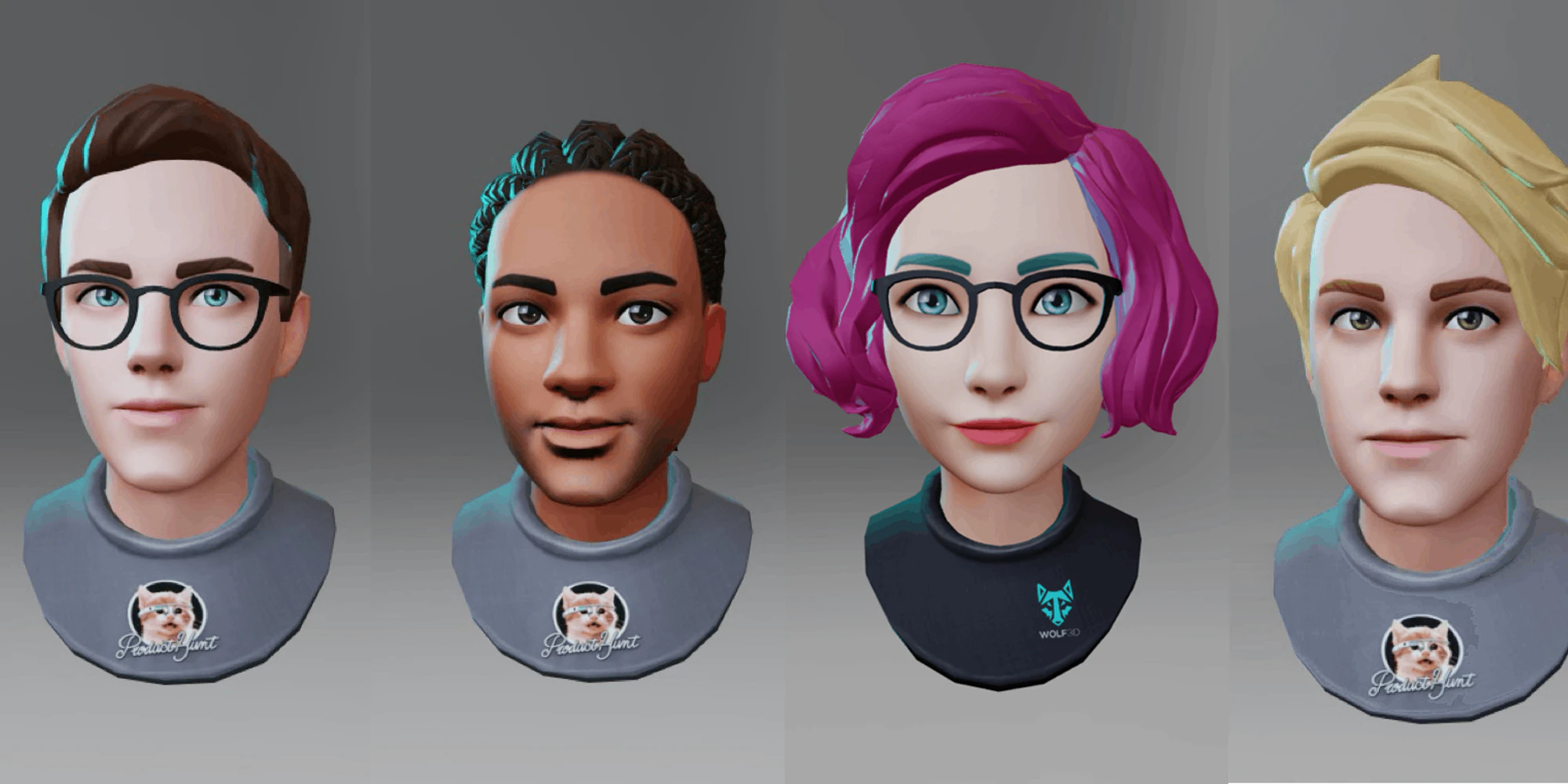 Mozilla Hubs is an open-source web application that uses WebXR Device API for registering input from VR headsets and controllers. Although it's important to note that Hubs work on any device with a web browser, so desktop and mobile users can join.
Mozilla Hubs allows you to create private rooms and naturally communicate with your colleagues. You can walk around the space and talk to people around you. It's possible to share media like photos, videos, PDFs, and even 3D objects.
You can use Ready Player Me avatars in Mozilla Hubs. All you need to do is create your avatar on readyplayer.me/avatar, click "Done", and follow the instructions to import the avatar to the platform. We saw our avatars being used for private and business meetings and even 4-hour-long medicine lectures!
Mozilla Hubs can be deployed onto an AWS server via the Hubs Cloud plugin. They also offer an enterprise version.
WondaVR – the enterprise XR platform
Mozilla Hubs, being an open-source platform, served as a foundation for many useful virtual reality applications. That includes WondaVR, an enterprise meeting solution. Just like Hubs, it's cross-platform.
WondaVR works well for role-playing exercises, virtual tours, immersive presentations, and 360° live events. The tool is used by companies like Cisco, VMWare, Salesforce, and Deloitte. Many universities, including famous Harvard and NYU, also use WondaVR.
WondaVR lets you create your own virtual experiences using their Spaces tool. There, your team can drag-and-drop elements, add media like video and 3D objects, and design advanced interactions. All without coding.
Scena 360 – immersive VR meetups on the web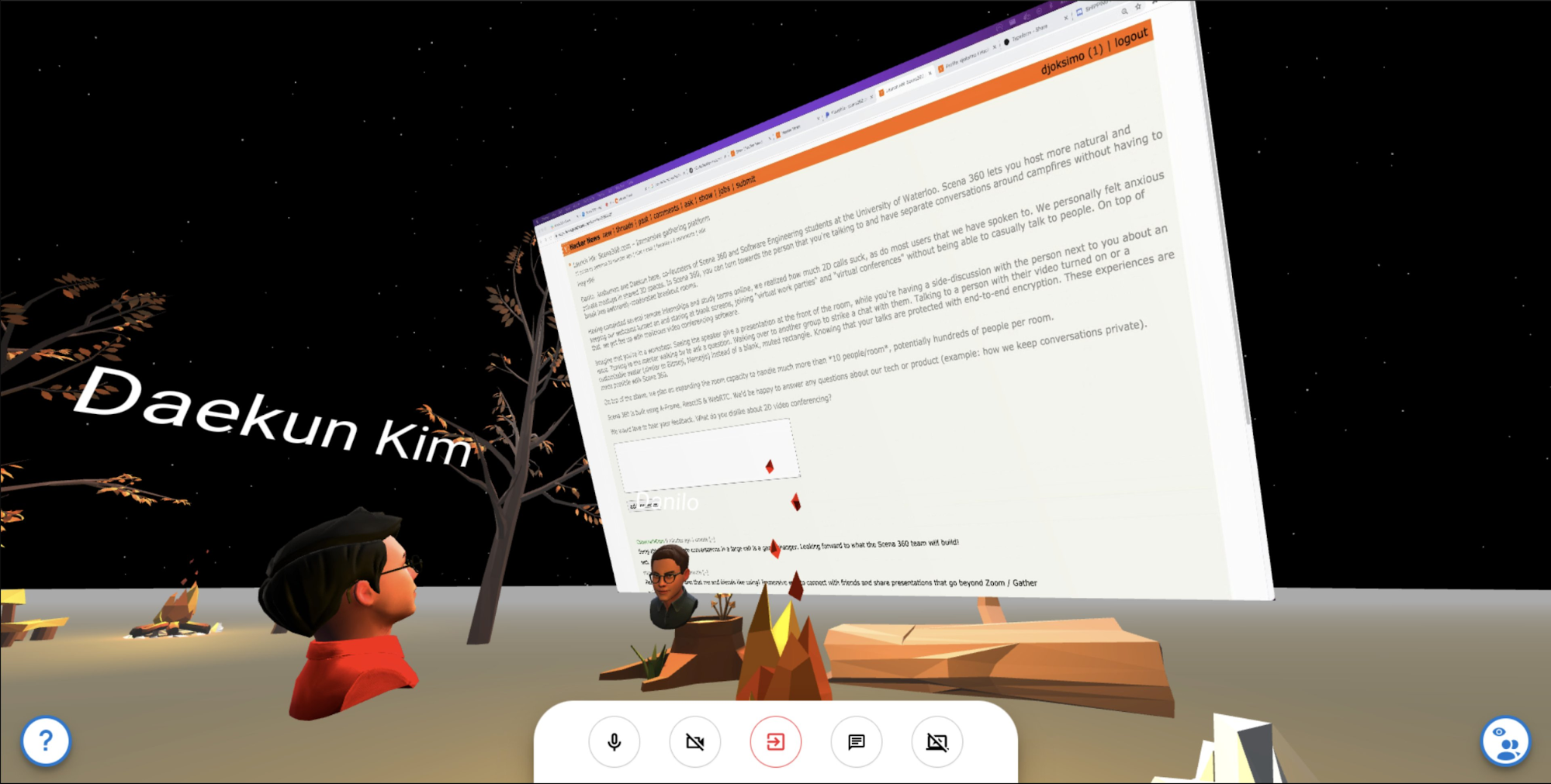 Scena 360 lets you host virtual meetups on the web, meaning that it works on desktop, mobile, and VR headsets. The platform's key feature is Scena 360 Audio technology. It allows you to have a natural and private conversation with a person standing next to you without hearing anyone around—no more Zoom-like breakout rooms.
Meetups hosted on Scena 360 are private and end-to-end encrypted. The tool is free to use, but there is a Pro version coming in the future.
HoloSpaces – VR events up to 250 People
HoloSpaces is an upcoming tool that will let you host interactive events with up to 250 people – perfect for keynote speeches. Speakers will be able to place 3D models, share their screen, paint in 3D, and use whiteboards.
You can sign up for the private beta here.
UtopiaVR – Zoom-like meetings for VR
UtopiaVR - How it works from Utopia VR on Vimeo.
UtopiaVR might be the closest virtual reality alternative to Zoom out there. Like in the popular video conferencing app, participants can just join from a link. UtopiaVR is based on WebXR, so it works on desktop, mobile, and VR headsets.
You can host private meetings in one of the twelve available rooms, including a classic office, conference center, showcase booth, or even a museum. Once you're in a meeting, you can stream videos, present PDFs, show images, play audio, share screen, and place 3D objects.
Soon, you will be able to use Ready Player Me avatars in UtopiaVR.
Couch Live – living room in VR
Sometimes all you need for a meeting or an after-hours hang out with your colleagues is a couch and a TV. Couch Live is just that. It's free to use works on desktop, mobile, and VR headsets.
Looking for 3D avatars for your company meetings?
Ready Player Me avatars are supported by all tools mentioned above. That means that your employees can have a consistent digital identity across different services. Imagine having a brainstorming session in MeetinVR, hosting a board meeting in WondaVR, or organizing a conference in HoloSpaces. All you need to create a Ready Player Me avatar is a selfie.
Become a Ready Player Me Partner
Do you want to join us in the mission of building the metaverse? Become a Ready Player Me partner to integrate our avatars with your app or game.