Over 40,000 avatars created from a single Reddit post
Cyberpunk 2077 was one of the most anticipated game releases of the past decade. Ever since we saw the first teaser trailer back in 2013, the hype around the game kept growing. Of course, there was a delay or two on the way, which made some people quite impatient, like sending-death-threats impatient. We managed to stay calm for a few more weeks. Instead, we used our excitement to create something for all of the waiting Choombas – Cyberpunk-themed Ready Player Me avatars.
Cyberpunk subreddit loved our avatar creator
Our team spent two weeks building the Cyberpunk character creator. We published it just seven days before the game was out, and people absolutely loved it.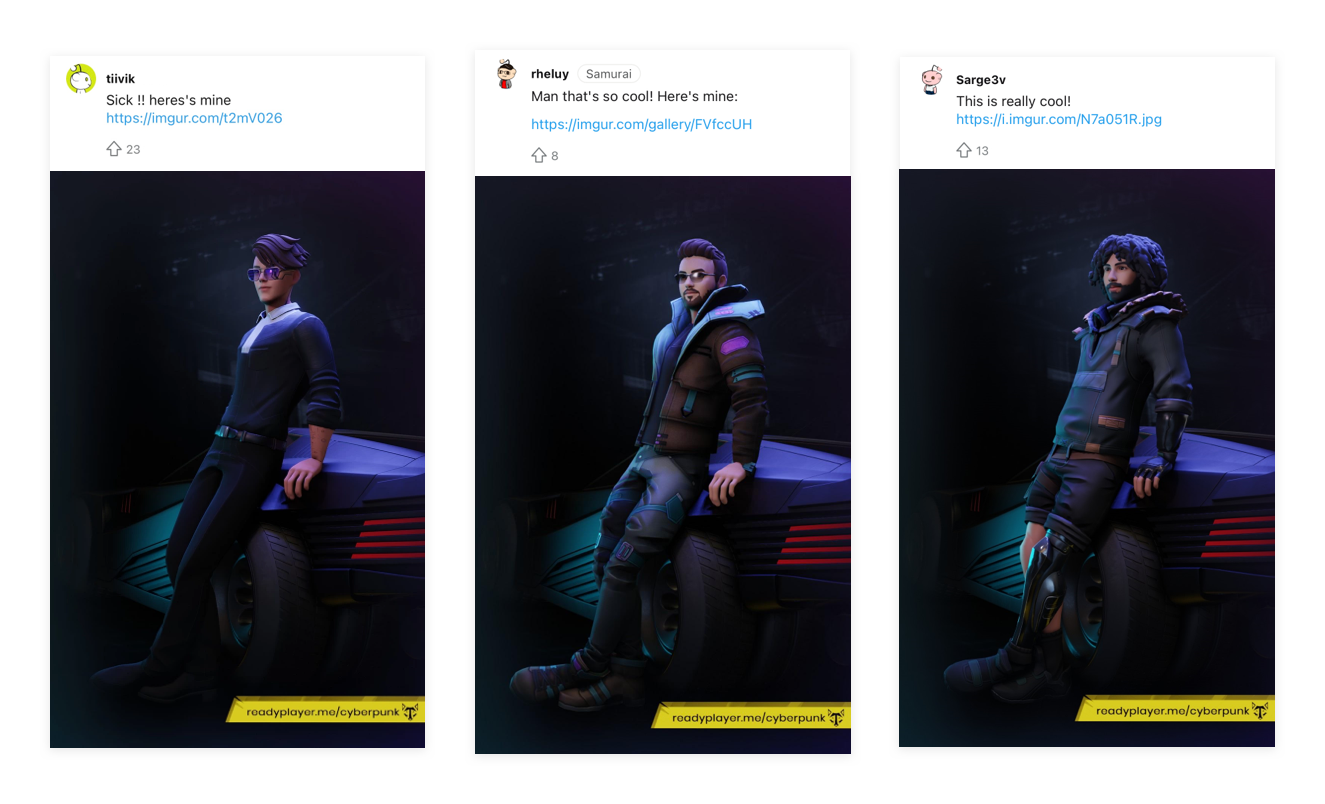 Many gamers waiting for Cyberpunk to be released pointed out that Ready Player Me avatars really did look like them. Instead of spending hours customizing their chins, cheeks, and noses, they had to simply take a photo of themselves.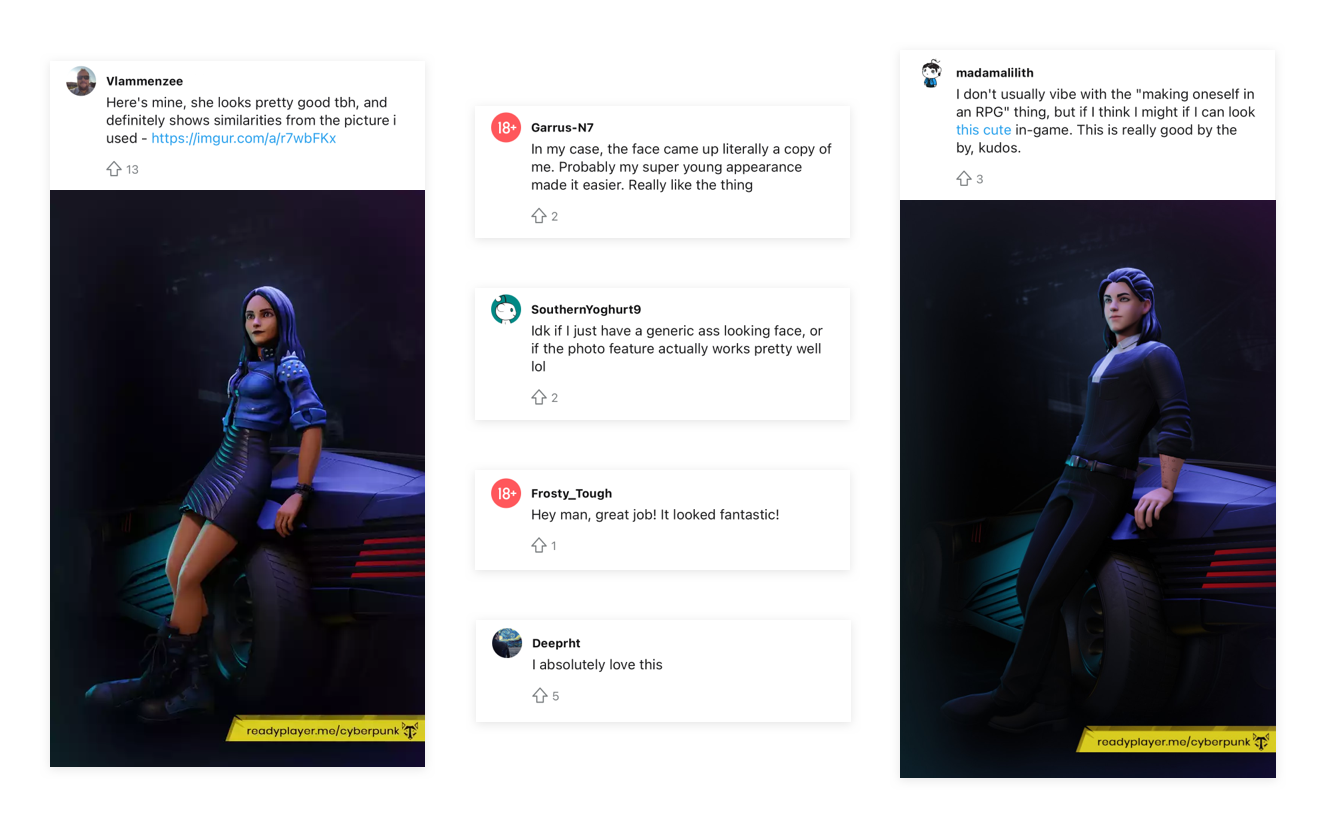 We also received a critical question from /u/a_zk:

We can't promise anything, and, to be honest, CD Projekt RED did an outstanding job here.
Timmu's post on /r/Cyberpunk2077 got over 1.7k upvotes and 215 comments. A lot of people also shared their custom-made avatars, and they all looked great! We also received a very warm response on Product Hunt, where we hit 200 upvotes and got featured in PH's daily newsletter. We even got a few mentions from the press, including an article in The Gamer.
In total, over 40.000 people went on the Ready Player Me website to create their own Cyberpunk avatars.
How to create your own Cyberpunk 2077 3D avatar from a photo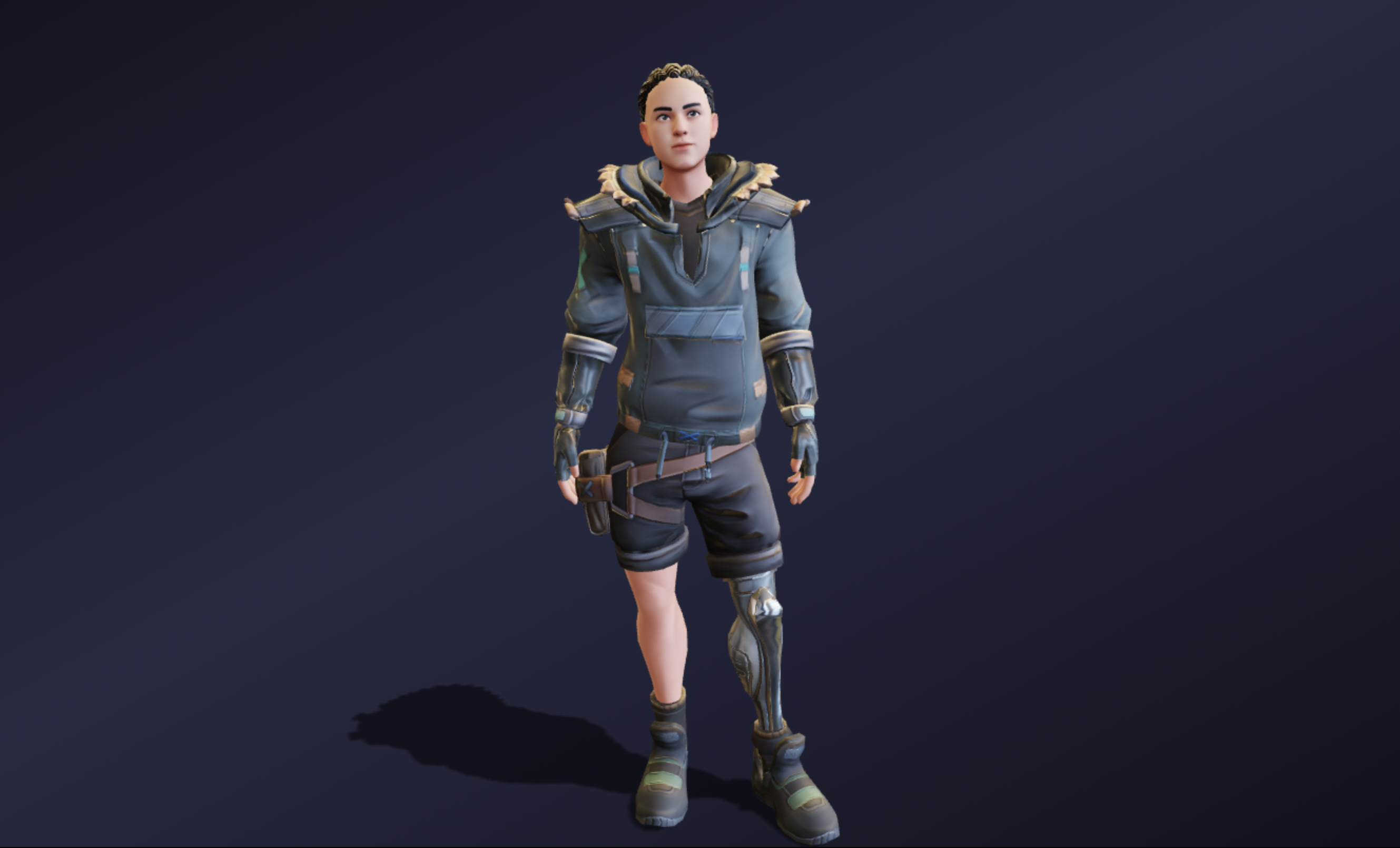 Like the standard Ready Player Me avatar platform, the Cyberpunk-themed creator allows anyone to create a character based on their selfie. Our machine learning algorithm takes face features from the photo and puts them on a 3D avatar. You can customize your hair, clothes, and even tattoos. Just in a few minutes, you can create a 2077 version of yourself.
It takes just a few steps to create your own Cyberpunk-themed 3D avatar.
Visit readyplayer.me/cyberpunk on a device with a front-facing camera (it works on computers, tablets, and phones)
Take or upload a selfie. It's best if you take off glasses and look straight into the camera. The photo needs to be well-lit for the best results
Customize your avatar's hair, eyes, tattoos, clothes, and more. It can look just like you but feel free to let your creativity do its thing. When you're happy with the result, just click "Done" and save the photo
How can I use the Ready Player Me avatar creator in my game?
You can already use Ready Player Me avatars in 3,000+ apps and games, including MeetinVR and Mozilla Hubs. If you're an indie developer, you can implement our avatar platform for free. Your users will be able to create their own avatars and use them in your app or game, even Cyberpunk-themed ones! If you want to learn more, join our Discord server.
Become a Ready Player Me Partner
Do you want to join us in the mission of building the metaverse? Become a Ready Player Me partner to integrate our avatars with your app or game.
---
Ready Player Me is not affiliated, associated, authorized, endorsed by, or in any way officially connected with CD Projekt S.A., or any of its subsidiaries or its affiliates. Cyberpunk 2077 as well as related names, marks, emblems and images are registered trademarks of their respective owners.