Ready Player Me avatar maker now supports exporting avatars to VRChat. Create your personal avatar from a photo, upload it to VRChat, and join the rest of the community on PC or Oculus Quest.
VRChat is the world's leading social VR platform. Accessible with or without a VR headset on PC and Oculus Quest, creators can build and publish custom content to the platform using the VRChat SDK. After uploading their avatar or world, creators can share what they've made with the community. Users of the VRChat platform commonly spend many hours per session engaging with each other and their creations.
There are over 300,000 worlds created by the VRChat community. There are many incredible hangouts, games, events, performances, and imaginative places to visit. As an example, during the last New Year's Eve event, over 40,000 people logged into VRChat at the same time to usher in 2021. There are also Avatar worlds where creators and curators set up avatar pedestals for players to use them.
VRChat players that want something unique can use the VRChat SDK to customize their avatars to express their identity. Last year, developers behind the platform announced a major expansion to their avatar SDK and systems: Avatars 3.0 (or AV3). The new avatar system allows creators to add advanced expressions and save states. Players can access them through the new Action Menu.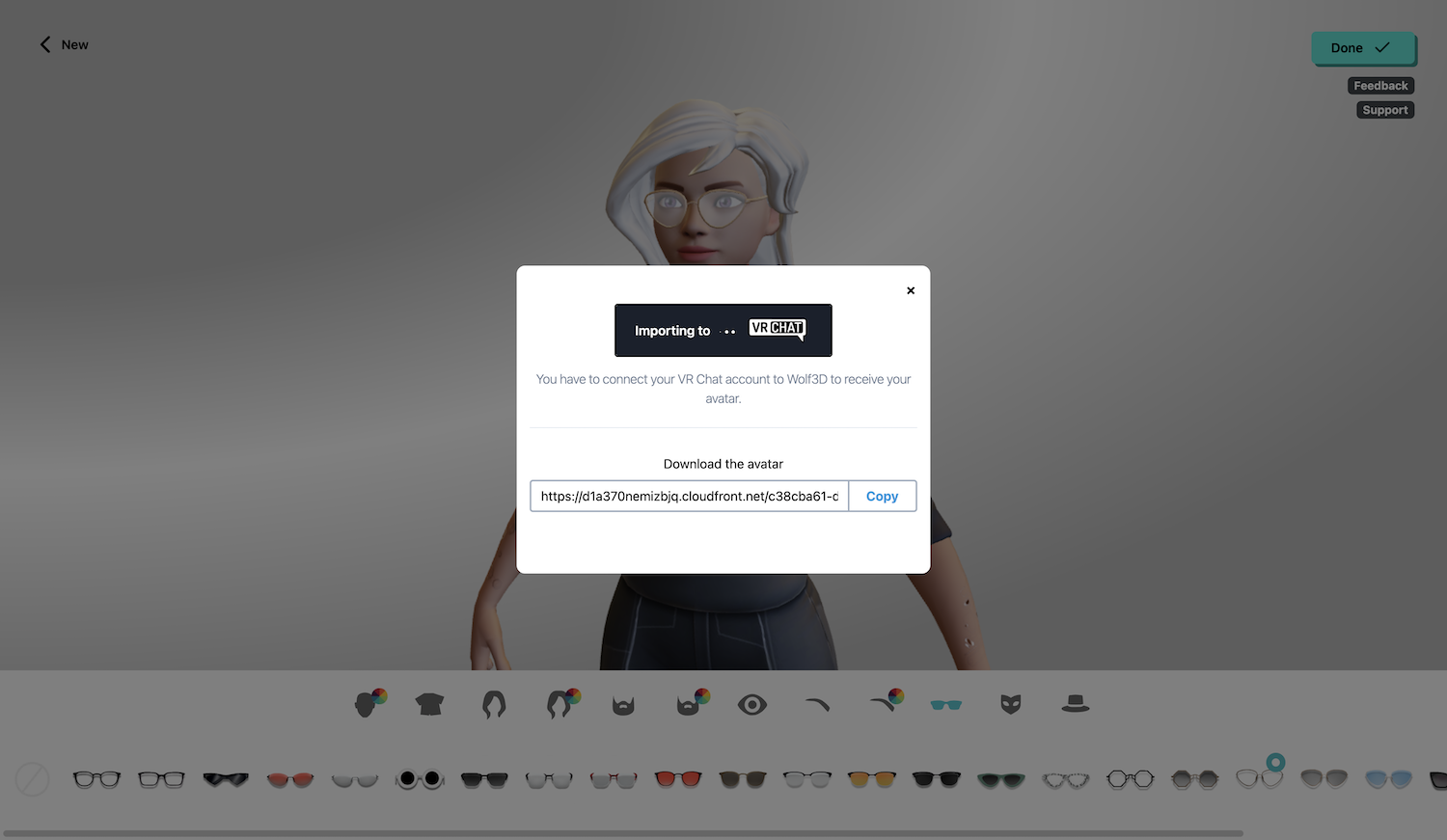 Create your personal VRChat avatar with Ready Player Me
VRChat integration was a top request ever since we released Ready Player Me last year. We spent months working on the integration to get it right and make it compatible with AV3, both on PC and Quest. There is no better way to express your identity in a virtual world than through an avatar that resembles yourself.
Starting today, you can upload your personal Ready Player Me avatar to VRChat.
Like with our full-body and Cyberpunk avatars, all you need to do is to upload a selfie. Our machine learning algorithm will generate a 3D model based on the photo. If you don't want to upload a photo, you can also skip this step and go directly to the avatar maker.
You can customize every detail of your avatar. Choose a hairstyle, eyebrows, eyes and their colors, clothes, glasses, and much more. In total, Ready Player Me features 200 different avatar customization options, and the list keeps growing. Our art team is sharing new assets on our Discord. Let us know if there's anything specific you want us to add.
For many, creating an avatar in VRChat is both a daunting and very important task. We're excited to work with Wolf3D to help make avatar creation easier and more accessible for everyone in the VRChat universe!
~ Graham Gaylor, Co-Founder & CEO of VRChat
Creating your own Ready Player Me avatar for VRChat is simple, and it takes just a few steps.
Visit readyplayer.me/vrchat and click on "Create your avatar."
Capture or upload a photo. You can also skip this step and continue without a photo.
It will take 5-10 seconds to get you a perfect virtual avatar. We create an avatar from a photo using an AI model we've trained on 20,000 face scans.
Customize your avatar's hair, eyes, tattoos, clothes, and more. You can make the avatar look just like you or completely different!
When you're done, click "Next". On the next page, click "Import to VRChat," log in to your account, and give Ready Player Me app access.
Wait around 10-15 minutes for the avatars to sync with VRChat. It's going to appear in the "Other" section of the "Avatars" tab.
You can always revisit the website and edit your avatar's features, like changing the outfit or hairstyle. Our art team is working hard to bring even more customization options.
We can't wait to hear your feedback and ideas for cool new assets. Share your VRChat avatars using #readyplayerme on Twitter or Instagram.
Frequently Asked Questions about Ready Player Me VRChat 3D Avatars
I created a VRChat avatar but I can't use it because it's listed as private.
You're most likely using a modified version of VRChat which is not supported by our avatars. If not, please try reinstalling the game.
Update: emmVRC added support for our avatars. Have in mind that using a modified version of VRChat is against their Terms of Services.
Can I use the VRChat avatar without a VRChat account, just with a Steam or an Oculus account?
No. A VRChat account is required.
Is it possible to export an avatar to VRM?
Not yet, but we are working on adding a VRM export option.
How can I delete an avatar in VRChat?
Currently, it's not possible, but VRChat developers are working on adding this feature.
Where can I find the avatar after importing it to VRChat?
It's going to appear in the "Other" section of the "Avatars" tab. Note that the avatar will appear only in the game, not on VRChat's online platform.
Why avatar imported to Unity doesn't have textures?
You need to extract the textures to show up in Unity.
Click FBX avatar in the assets window.
Click "Extract Textures..." in the Inspector window.
It should open a window asking for a folder. You don't have to change or click anything here. Click "Select Folder" in the bottom right corner of the window to select the folder you are already in.
---
Are you a developer?
Do you want to join us in the mission of building the metaverse? Become a Ready Player Me partner to integrate our avatars with your app or game.